SPANISH 4 SPANISH TEACHERS
This program has been design for those dedicated to teaching, especially those who teach Spanish as a second language.
The program consist of grammar workshops, here we will cover various subjects, depending on concerns the participants may have, we will also review subjects we have knowledge of but somehow became a headache for the majority of people who speak Spanish as a second language.
These workshops will be given intensively without leaving aside the application of them on a conversation in a natural and spontaneous manner, they will last one to two weeks (5 ½ hrs per day).
The participants will also have the opportunity to visit schools or high schools, interviews with educators and principals of Educational Centers where they will learn and share the principal differences of the educational system here and in the USA.
During these workshops we will also discuss subjects of concern to the participants who will choose the subjects and will expose them; also we will analyze newspaper or magazine articles with the purpose of increasing their vocabulary and also improving their fluency.
The groups are small, no more than five participants. They will be evaluated on the first day to be located in their respective groups (beginners, intermediate or advanced).
There will be tours guided by a professor of Rancho de Español. This way the participants will have the opportunity to go out and see important cultural aspects like city markets and much more.
During the stay they will learn recipes with their host families, have dancing classes with tropical rhythms (Cumbia, Salsa, Merengue), and assist cultural activities like visits to museum and the teather.
At the end of the workshops a participation certificate will be given.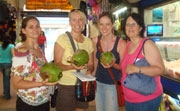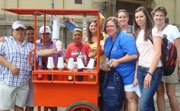 Click Photo To Enlarge.