MORE SERVICES OFFERED AT RANCHO DE ESPAÑOL
Orientation Session and Rancho's Facilities Tour:
The first day of class students will be tested after holding an orientation session to help them adjust to their new home and surroundings also other topics as cultural issues, local customs, how to get around town and safety tips, as well as general information about the school's schedule, classes and other activities offered during their stay.
Transportation:
Rancho de Español offers free airport pick-up and drop-off.
In case you need other type of transportation you can ask at the reception for assistance.
Mail Service:
Rancho de Español takes your letters and post cards to the post office three times per week and also provides you with post cards and stamps.
Internet Access:
You will have access to a computer to check your e-mail or just use the Internet for an extra cost of $3 per hour.
If you prefer to bring your lap top, wireless internet access is available.
Calling cards are also available at the reception.
Tourist Information:
At Rancho de Español we will be pleased to assist students with their travel arrangements within Costa Rica.
Arrangement for tours to volcanoes, beaches, rain forest, etc.

Hotel reservations.
Economical Car Rentals
Local Flights
Any type of transportation service
Customized itineraries.
Currency exchange
Telephone / Fax
Parking
Special Packages for Travelers Only are also available, in case you just want to visit and travel around the country we can arrange your itinerary.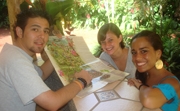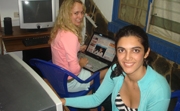 Click Photo To Enlarge.